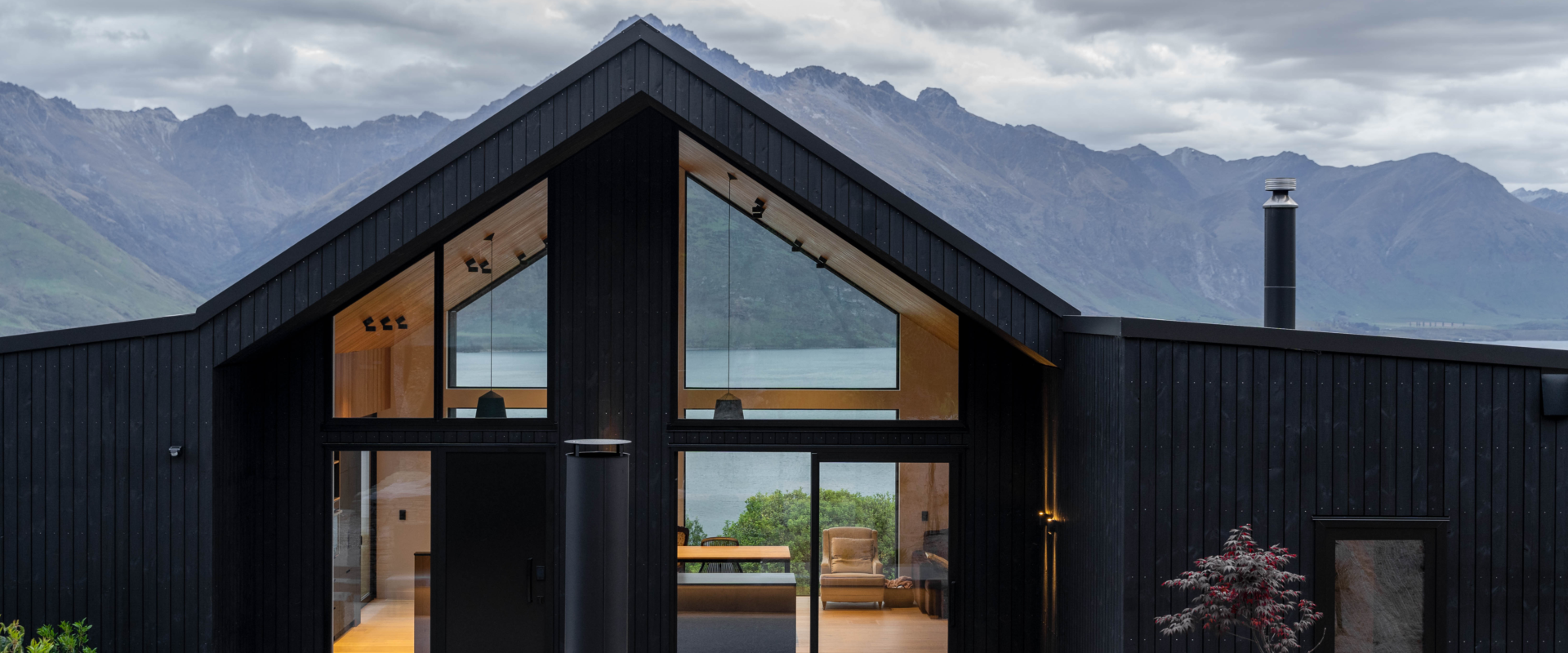 Corsican Cove Home
This picturesque architecturally designed home is located in Queenstown. The main home boasts a cathedral ceiling with vertical shiplap timber panelling that adds to the overall grandeur of the project. The attention to detail in the design ensures that the home takes full advantage of its location and provides stunning views of Lake Wakatipu.
The exterior of the home is stunning and impressive, featuring a natural palette of stone, concrete, and a greyed-off deck that contrasts boldly against the dark-coated vertical shiplap and pops of colour from the natural environment.
The Exterior - JSC TMT Taiga Vertical Shiplap Cladding Coated in JSC Scumble Wood Oil:

The TMT Taiga cladding provides a unique and rustic quality to the project, where the timber features oval-shaped "butterfly" knots throughout, giving the build a distinctive look that blends in well with the natural backdrop of the Queenstown landscape.
This premium sustainable timber cladding is thermally modified to withstand New Zealand's harsh weather conditions. It is heat-treated with no use of harmful chemicals, which enhances its durability and stability, and in turn, adds to the longevity of the build.
To ensure the cladding remains protected from the elements, it was coated with JSC Scumble Wood Oil in the colour "Nightfall." This product is a high-quality exterior wood oil that provides long-lasting protection while still maintaining the natural beauty of the timber.
"It has been a pleasure to work with JSC on recent housing projects. While JSC has supplied our clients with traditional Cedar cladding we have used TMT Taiga on a number of recent projects and we have been very happy with the product. Lee and the team at JSC Timber were very easy to work with. The builders also found it good to work with being very straight and true. The TMT Taiga had a Scumble coat applied which is still looking very good." Pete Ritchie
Products
Species
Coating
Architect
Kerr Ritchie Architects
Year
2022
Photographer
Emile Hussell