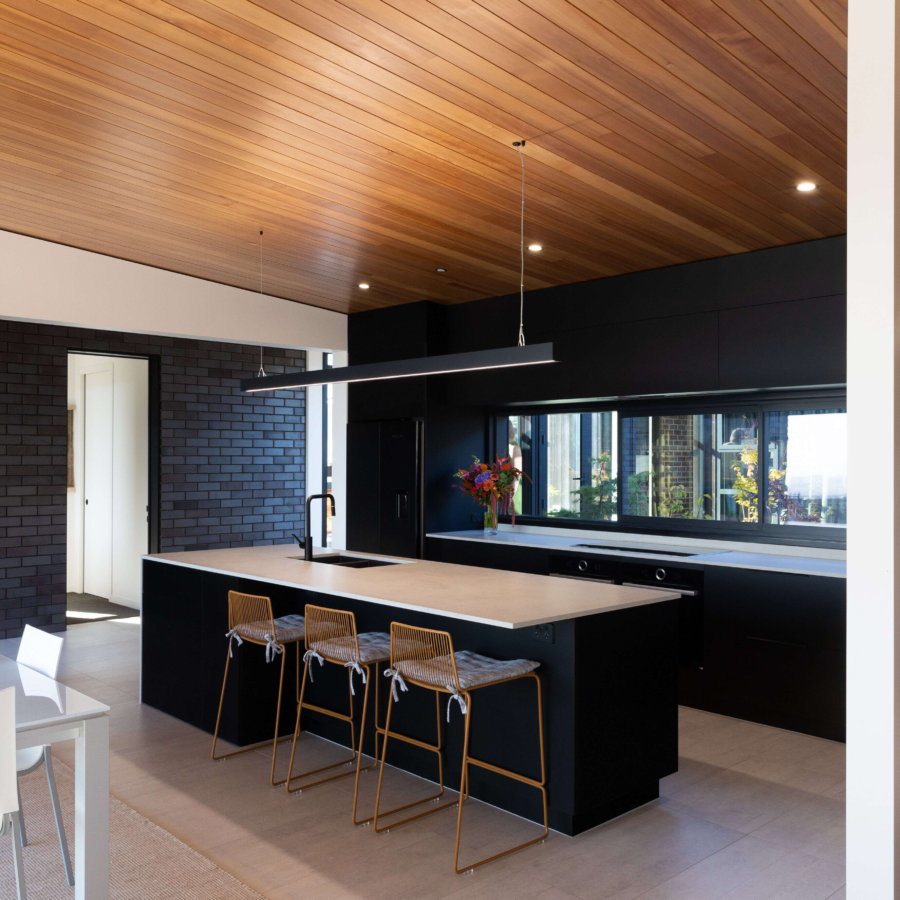 Western Hemlock Interior Timber Panelling
---
JSC's Interior Timber Panelling
JSC offers a wide range of dressed and bandsawn profiles, including fascia, for your interior. Profile species can be adapted for internal panels or walls, louvres, fins, or interior partitioning.

Fully dressed and bandsawn timber profiles can be equally adapted to exterior batten systems for both structural and decorative applications, creating exceptional design options.
Common sizes available: Available in a range of profiles in widths from 65 - 150mm+
---
---
JSC's Interior Timber Panelling Benefits
Aesthetically beautiful - where the natural wood grain adds warmth and character to any interior space
Provides durability -  Timber panels are highly resilient and can withstand everyday wear and tear. This provides long-lasting performance, making it a sustainable choice for interior wall coverings. It also means the timber panelling can handle minor impacts and scratches without significant damage.
Ability to be refinished. Timber panels can be sanded, stained, or painted to refresh or change the appearance over time. It allows for flexibility in adapting to evolving interior design trends or personal preferences. It also offers the opportunity to restore the panels to their original beauty if they become worn or damaged.
Thermal retention - Wood has natural insulation properties, contributing to improved energy efficiency in buildings.
Indoor-outdoor flow - Interior panels can be customized to match the exterior profiles of a building, creating a seamless transition between indoor and outdoor spaces. It enhances the overall design coherence and aesthetic harmony between the interior and exterior of a property. It lastly provides a sense of continuity and connection with nature, especially when used in areas with access to outdoor views or gardens.
---
Technical
Species

Area of Use

Attributes

Supplier Responsibility

Interior use

Exterior use

Sustainably Sourced

NZ grown

Easily Worked

Premium Radiata #1 Clears

NZ Grown

Sustainably Harvested

Interior

Sustainably Sourced

Dense, Resilient Timber

NZ Grown

Exterior use

Interior use

Thermally Modified

Naturally Stable

Naturally Durable

Clearer Grade

Multipurpose use

Accepts Dark Coatings

PEFC

Interior use

Exterior use

Naturally Durable

Clearer Grade

Hidden Fix Options Available

Uniform Colour

Multipurpose use

PEFC

Interior use

Exterior use

Thermally Modified

Uniform Colour

Light Weight

Clearer Grade

Accepts Dark Coatings

Naturally Stable

Naturally Durable

PEFC

Interior use

Exterior use

Naturally Durable

Clearer Grade

Multipurpose use

Naturally Stable

Natural Thermal Insulator

Hidden Fix Options Available

PEFC

Interior use

Sustainably Sourced

Long lengths

Uniform Colour

Clearer Grade

Hidden Fix Options Available

Light Weight

PEFC

Interior use

Exterior use

FSC®

Sustainably Sourced

Naturally Stable

Naturally Durable

VLO

FSC 100%

Interior use

Sustainably Sourced

Naturally Stable

Dense, Resilient Timber

PEFC

AFS

Interior use

Exterior use

Feature Grade

Naturally Durable

Natural Thermal Insulator

Easily Worked

PEFC

Interior use

Sustainably Sourced

Feature Grade

Clearer Grade

PEFC

Exterior use

Interior use

Thermally Modified

Naturally Durable

Naturally Stable

Feature Grade

Multipurpose use

Accepts Dark Coatings

PEFC
Profile

Effective Cover

Thickness

Species

112mm

18mm

Western Red Cedar

Iroko

Western Hemlock

Tasmanian Oak

American White Oak

TMT Tuscan

TMT Taxon (Tulipwood)

TMT Taiga (Lunawood)

162mm

18mm

Western Red Cedar

Iroko

Western Hemlock

Tasmanian Oak

American White Oak

TMT Tuscan

TMT Taxon (Tulipwood)

TMT Taiga (Lunawood)

62mm

12mm

Western Red Cedar

Iroko

Western Hemlock

Tasmanian Oak

American White Oak

TMT Tuscan

TMT Taxon (Tulipwood)

TMT Taiga (Lunawood)

83mm

12mm

Western Red Cedar

Iroko

Western Hemlock

Tasmanian Oak

American White Oak

112mm

12mm

Western Red Cedar

Iroko

Western Hemlock

Tasmanian Oak

American White Oak

62mm

9mm

Western Red Cedar

83mm

9mm

Western Red Cedar

112mm

9mm

Western Red Cedar

65mm

18mm

Western Red Cedar

Iroko

Tasmanian Oak

Western Hemlock

American White Oak

TMT Tuscan

TMT Taiga (Lunawood)

TMT Taxon (Tulipwood)

115mm

18mm

Western Red Cedar

Iroko

Western Hemlock

Tasmanian Oak

American White Oak

TMT Tuscan

TMT Taxon (Tulipwood)

TMT Taiga (Lunawood)

165mm

18mm

Western Red Cedar

Iroko

Western Hemlock

Tasmanian Oak

American White Oak

65mm

12mm

Western Red Cedar

Iroko

Western Hemlock

Tasmanian Oak

American White Oak

83mm

12mm

Western Red Cedar

Iroko

Western Hemlock

Tasmanian Oak

American White Oak

115mm

12mm

Western Red Cedar

Iroko

Western Hemlock

Tasmanian Oak

American White Oak

65mm

9mm

Western Red Cedar

83mm

9mm

Western Red Cedar

115mm

9mm

Western Red Cedar

83mm

18mm

Western Red Cedar

Iroko

Western Hemlock

Tasmanian Oak

American White Oak

TMT Tuscan

TMT Taxon (Tulipwood)

TMT Taiga (Lunawood)

128mm

18mm

Western Red Cedar

Iroko

Western Hemlock

Tasmanian Oak

American White Oak

TMT Tuscan

TMT Taxon (Tulipwood)

TMT Taiga (Lunawood)

172mm

18mm

Western Red Cedar

Iroko

Western Hemlock

Tasmanian Oak

American White Oak

TMT Tuscan

TMT Taxon (Tulipwood)

TMT Taiga (Lunawood)

128mm

9.5mm

Western Red Cedar

83mm

9.5mm

Western Red Cedar

128mm

9mm

Western Red Cedar

83mm

9mm

Western Red Cedar

58mm

9mm

Western Red Cedar

62mm

18mm

Western Red Cedar

Iroko

Western Hemlock

Tasmanian Oak

American White Oak

TMT Tuscan

TMT Taxon (Tulipwood)

TMT Taiga (Lunawood)
Coatings
See how our coatings can transform and protect
Find Out More
Please complete to download:
Cladding Calculator Results
Panelling Calculator Form